MIKASTAMP IS AN IDENTITY SYSTEM USING ORIGINAL ART TO GIVE WHATEVER IT IS ATTACHED TO IDENTITY.
I CREATED IT 2018 BY SEWING THE ARTWORKS TO THE PRODUCTS OF MIKAZUKI. IT WAS ALSO A WAY TO RECOVER LOST ITEMS BY ATTACHING A QR CODE THAT CAN BE SCANNED TO TAKE YOU TO YOUR UNIQUE PAGE AT MIKASTAMP.COM WHERE YOU CAN CONNECT WITH THE PERSON WHO FOUND YOUR ITEM.
THE ARTWORKS ARE PAINTED IN THE SIZE OF A STAMP SEWN ON TO EVERY PRODUCT BEING SOLD.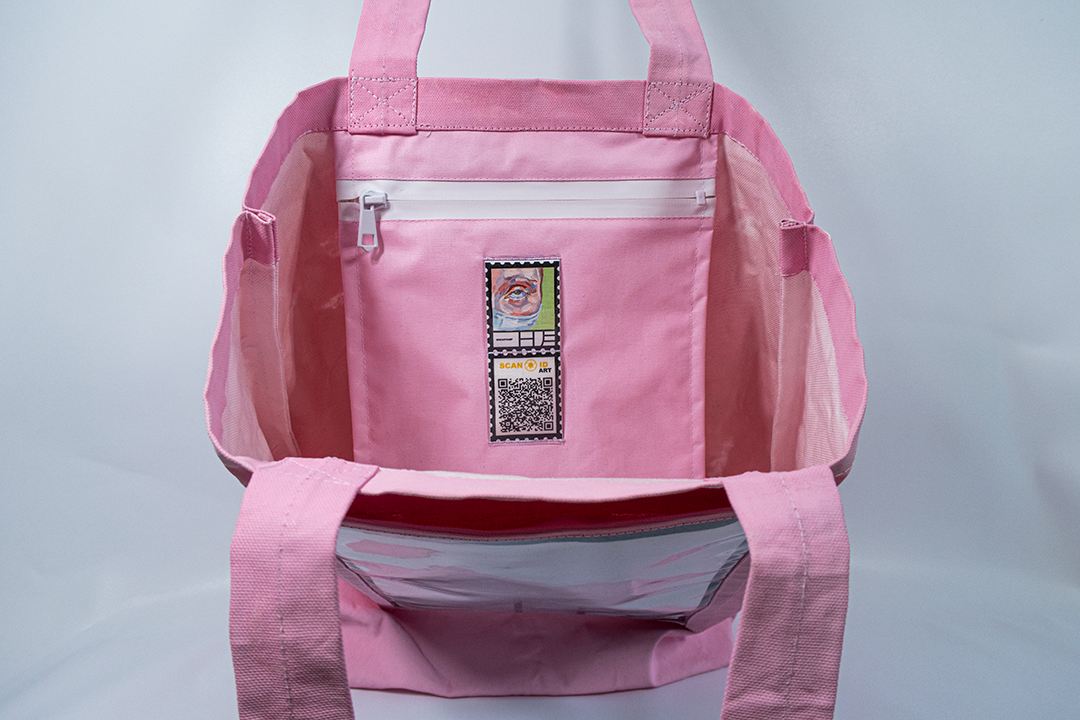 ORIGINAL ART IS ALREADY VERY DIFFICULT TO REPRODUCE TO MAKE A FAKE COPY, IF NOT IMPOSSIBLE.
YOU CAN SEE THE BRUSH STROKES ON A PHOTO OF THE ORIGINAL AND COMPARE TO SEE THE DIFFERENCES OF THE FAKE ONE.
When I started to explore bitcoin (SV) I was soaked up in all what was already possible to do with it in February last year (2020). I FELT THIS IS A PERFECT MATCH TO MY WHERE MY COMPANY IS HEADING AT.
I COULD SEE HOW NEW OPPORTUNITIES FOR ARTISTS OPENS UP BY using bitcoin with micro transactions but also tokens (NFTs) created specially for the stamps. BOTH FOR EXPOSURE BUT ALSO TO ACTUALLY EARN "FREQUENTLY" INCOME FROM THEIR ART THROUGH MICRO TRANSACTIONS.
I DID EXPERIMENTS ON ETHEREUM TO SEE IF I COULD MAKE NFTs. I realised pretty fast that it was a dead end until the scaling problem is solved. with that i decided to cut up the original painting i did of an astronaut trying to catch ethereum. the puzzle of ehtereum look a like pieces is a total of 480 pieces.
I decided to make them into physical nfts by attaching them to products. i though it was somehting beautiful yet crazy in spreading the paintings pieces all over the world knowning that we who hold a piece of the painting together can make it whole again. i see the world like that, we are all fragments and to make the world whole again we need the very best of us all to make it possible.
WITH THE RESTORATION OF BITCOIN I FEEL IT IS TIME TO RESTORE THE FASHION INDUSTRY AS WELL.
GO BACK TO THE ROOTS WHEN MOST OF IT WAS IN HOUSE PRODUCTION. WHEN SUPPLY AND DEMAND WAS EQUAL. WHEN CREATIVITY WAS PRIORITIZED AND BUSNIESS A NATURAL OUTCOME FROM PASSIONATE CREATION.
IN 2020 I STARTED TO REGISTER EVERY STAMP CREATED BY UPLOADING IT TO THE BLOCKCHAIN. I SEE HOW MIKASTAMP AND BITCOIN IS A COMPLETE LOVE STORY TO GIVE THE IDENTITY EVERY ARTWORK DESERVES.
IDENTITY MATTERS, THAT IS WHAT MAKING US UNIQUE. BEFORE UPLOADING DATA TO BITCOIN WAS POSSIBLE I USED TO SIMPLY GENERATE A QR CODE THAT CAME TO THE SPECIFIC PAGE WHERE A PICTURE OF THE STAMP WAS UPLOADED. BITCOIN MAKES IT POSSIBLE TO CREATE TRUE CERTIFICATES. THE PHYSICAL STAMP IS ALSO DIGITAL AS AN NFT (NON-FUNGIBLE TOKEN). YOU CAN NOW OWN A PHYSICAL PRODUCT WITH AN NFT TO PROVE YOU ARE THE OWNER. WHEN PURCHASING A STAMP WITH BSV AND ADDING A MONEYBUTTON PAYMAIL YOU WILL RECIEVE THE NFT TO THE PRODUCT. TO OWN THE NFT OF A MIKASTAMP WILL BE VALUABLE WHEN TRADING THE ARTWORKS. EVEN THOUGH MIKASTAMP IS "ART OFF THE WALL" IT IS STILL ART AND SHALL BE TAKEN CARE OF LIKE TRADITIONAL ART ON THE WALL. WHEN YOUR WEARABLE ART ISNT WEARBLE ANYMORE THE ARTWORK IS STILL VALUABLE TO US, KEEP THEM SAFE ALONG WITH YOUR NFT.
I DECIDED TO RE BUILD THIS WEBSITE MAKING IT BITCOIN FRIENDLY WHTOUT PUTTING TO MUCH FOCUS ON THE SUBJECT. MIKASTAMP AND MIKAZUKI ARE ALL ABOUT ART AND VERY LITTLE ABOUT BITCOIN. BITCOIN IS THE TECHNOLOGY WE USE TO CREATE OUR CERTIFICATES, MAKE IT POSSIBLE TO READ ARTICLES AND PURCHASE PRODUCTS FREE FROM A SINGLE COUNTRYS INFLATIONS. MY INTENTION IS TO INTREGRATE BITCOIN SO IT IS VERY PRESENT BUT INVISIBLE. I WANT TO PURLEY FOCUS ON ARTISTS AND THEIR ART BUT SINCE BITCOIN IS NEW TO THE WAST MAJORITY I FEEL THIS FIRST POST HAS TO BE "VERY BITCOIN".
BITCOIN IS VERY LIBERATING WHICH ART STANDS FOR SO IT IS A NATURAL COMBINATION. PRODUCTS ON MIKASTAMP.COM CAN BE PURCHASED WITH BSV AND THE MAGAZINE CAN ONLY BE READ THROUGH BITCOIN. THE STAMPS ARE ANNOUNCED & LAUNCHED HERE AND THE CUSTOMERS DECIDES WHAT PRODUCT TO ATTACHED THEM TO. EVERY PRODUCT BECOMES UNIQUE.
WE HAVE A GALLERY WE OPERATE IN CENTRAL STOCKHOLM WITH OUR PARTNER "FRAMELAND" WHERE WE BEEN HAVING FREQUENT ART EXHIBITIONS WITH A NEW ARTIST EVERY SECOND WEEK. THIS YEAR WE DECIDED TO HAVE ONLY ONE ARTIST PER MONTH BECASUE OF THE PANDEMIC AND RESTRICTIONS WE HAVE TO FOLLOW.
EVERY ARTIST ANNOUNCED HERE IS A PART OF THE COMMUNITY TO MAKE A NAME WITHIN THE FIELDS OF ART. WE ARE INTRODUCING THEM TO BITCOIN AND THE ADVANTAGES OF OPERATING IN THE MICRO ECONOMY. I WANT TO CONTRIBUTE TO AN ECOSYSTEM WHERE BITCOIN CIRCLES INBETWEEN CONSUMERS, PROJECTS, COMPANIES WHO DECIDED TO BUILD ON BITCOIN. I TRULY BELIEVE BITCOIN CAN MAKE THE WORLD A BETTER PLACE AND I AM FEEL HAPPY AND FORTUNATE TO BE HERE WITH YOU.
WE WILL ANNOUNCE ARTISTS FROM FILM, PHOTOGRAPHY, MUSIC AND FINE ARTS HERE REGULARLY AND FALL DEEPER INTO THE RABBIT HOLE. THIS JOURNEY WE ARE ON HAVE JUST STARTED. STAY TUNED FOR THE NEXT ISSUE AND THANK YOU A LOT FOR CHECKING MIKASTAMP OUT!
BEST REGARDS
CHRISTIAN GODIN "FRAGMENTS"